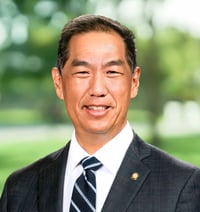 September 29, 2023 -- We are pleased to introduce Phil Chuang, our new senior vice president (SVP) of Healthcare Services.
In this new role, Phil will help lead our clinical team to foster innovation and collaboration between our community support center (CSC) healthcare teams and our life plan communities.

Prior to joining HumanGood, Phil was SVP, Clinical Services for the Northern California region of Kaiser Permanente, where he worked to ensure access to healthcare services for 4.5 million members in that region across all care settings. Before that, he was VP, Strategy and Business Development at Sutter Health, an integrated health system in Northern California, where he led strategy for home and community-based lines of business.
Phil is a Fellow in the American College of Healthcare Executives (ACHE) and in the Healthcare Information and Management Systems Society. He currently serves as ACHE Regent, Northern and Central California and on the board of directors for the California Association of Healthcare
Leaders.
Phil earned a BA from UC Berkeley and a PhD from UCLA (both in molecular biology), and an MBA with a focus in medical management from UMass Amherst.