November 8, 2022 -- HumanGood is the new management organization for two Oakland affordable housing communities: Irene Cooper Terrace and J.L. Richard Terrace, owned by the Evergreen Baptist Church in Oakland. These apartment buildings for residents 62 and older share the corner of E 12th Street and 2nd Avenue near beautiful Lake Merritt. The affiliation, which began November 1, marks HumanGood's sixth and seventh affordable housing communities in the City of Oakland and will bring resident activities and engagement to the neighborhood. In total, HumanGood operates 103 affordable housing communities across five states.
HumanGood Vice President of Operations Kendra Roberts said the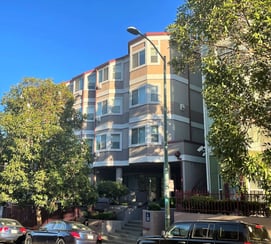 organization "is honored to manage these two beautiful communities in Oakland," which, according to the 2021 U.S. Census, has more than 58,000 residents who are 65 years and older. "Between our now-seven communities in the city, we are proudly serving more than 400 low-income Oakland residents," she said. Irene Cooper Terrace, owned by Evergreen Annex, Inc., and J.L. Richard Terrace, owned by Evergreen Baptist Church, provide a total of 120 HUD-subsidized homes consisting of one bedroom and studios. Rents range from $1,057 – $2,187, depending on resident income.

Residents enjoy the accessibility of their location which has Lake Merritt, a Bay Area Rapid Transit Station, shopping, and international restaurants all within one mile. The communities share a spacious outdoor terrace for resident and team member interaction.