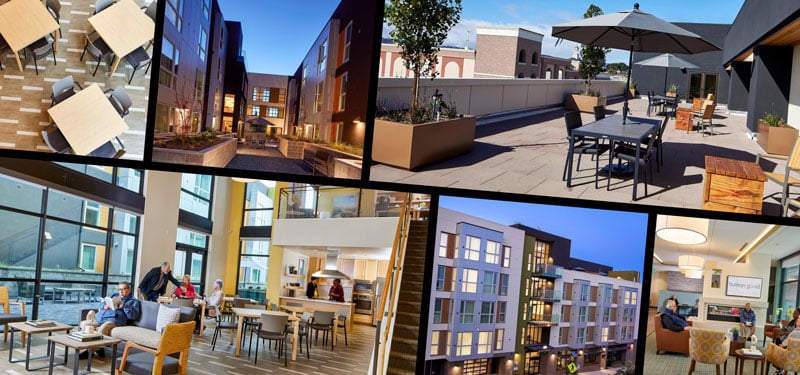 Senior Housing News (SHN) named Rotary Terrace, our South San Francisco, Calif.-based affordable housing community, as the first-place winner of the sixth annual SHN Architecture & Design Awards for affordable housing communities.
SHN established the Architecture & Design Awards in 2013 as a way to recognize and celebrate companies utilizing cutting-edge design and innovation to improve the lives of seniors.
Rotary Terrace was among more than 100 communities worldwide vying for the top honors across nine categories. That included affordable housing, assisted living, continuing care retirement community (CCRC), hospice, independent living, international, renovation/repositioning, skilled nursing/post-acute care and standalone memory care.
"Winning the SHN design award is a great honor for HumanGood. It reflects our larger organizational commitment to inspire seniors to live their best lives possible regardless of their economic status," says Cindy Proctor, vice president at Beacon Development Group (BDG), a subsidiary of HumanGood.
The 81-unit community opened in January 2019 and was developed in partnership with the South San Francisco Rotary Club. HKIT Architecture worked closely with BDG to facilitate the innovative design concept.
Among its many design features, the community offers comfortable spaces throughout including two-rooftop terraces, a second-floor open-air courtyard and lounge areas. It also has sustainable design features including a solar power system, high-efficiency LED fixtures with sensor controls, EnergyStar appliances and dual-pane energy efficient windows. A fitness center, library and high-speed internet are among the community's many amenities; and it also houses ground-level office space for the Rotary Club that doubles as a public community space.
"Rotary Terrace touches on all aspects that we strive to do well as a company—from building critical partnerships in the community, to developing innovative housing that is of high quality and sustainable in its design features, to the implementation of a resident services program that is meaningful and impactful to the lives in that community," says Proctor.
The community, located a quarter mile from a Caltrain station and is within the city's downtown redevelopment subarea, is one of 95 HumanGood affordable housing communities that are currently located in California, Delaware, Washington State and Pennsylvania.