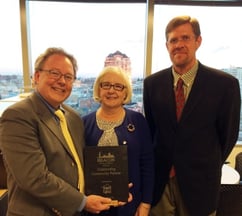 Beacon Development Group (BDG) was honored in December as Impact Capital's "Community Partner of the Year" at its annual meeting. Beacon Development Group has worked with Impact Capital, a community development financial institution that serves community organizations in the Northwest United States, for nearly two decades.
Beacon Development Group is an affordable housing consulting firm that works with west coast nonprofits and housing authorities. As a subsidiary of Beacon Communities, Beacon Development Group facilitates and manages the funding, financing, development, design and construction of affordable housing developments. Since 1999, Beacon Development Group has served thousands of people through the production of over 5,000 units in 80 projects, with a combined value of over $900 million.
"We're all immensely grateful to Impact Capital for their partnership and this tremendous recognition," says Beacon Development Group President Paul Purcell. "We look forward to continued collaboration with Impact Capital in the future."
Beacon Development Group and Impact Capital have partnered on several affordable housing projects, including Compass at Ronald Commons, Mount Baker Village and Plaza Roberto Maestas, which ultimately solidified its being honored with the "Community Partner of the Year" award.
In July, Beacon Development Group completed Plaza Roberto Maestas, an innovative transit-oriented development in Seattle, WA. The project was developed for El Centro de la Raza, a local social services agency that focuses on community education and Latino culture. This new community-inspired project not only benefits its residents, who are low-income families earning 30 to 60 percent of the area median income, but also adds liveliness to the streetscape directly adjacent to the Link Light Rail Station in Seattle's Beacon Hill neighborhood. The Plaza Roberto Maestas development also boasts a child development center and a multi-cultural community space with an additional 10,000 square feet available for retail or local small businesses.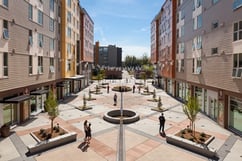 "I'm continually motivated by, but most importantly, proud of our entire staff for their continued commitment and hard work," says Purcell. "We believe that when people and families have the security of an affordable home, our entire community benefits."
Beacon Development Group most recently completed its latest project, Compass at Ronald Commons in Shoreline, Washington, this month. This community was designed specifically for families working in low-wage industries so they may enjoy a convenient, friendly neighborhood and a home atmosphere that is supportive of their personal and family growth.
With the turn of the new year, Beacon Development Group is moving forward with multiple new projects in Washington State, including a HopeWorks workforce housing project in Everett; a Cocoon House project serving homeless youth in Everett; a Beacon Communities senior project in Tacoma; a Filipino Community Services project in Seattle; and the second phase of Mount Baker Village in Seattle.
For more information on Beacon Development Group and its Community Partner of the Year award, please visit www.beacondevgroup.com.