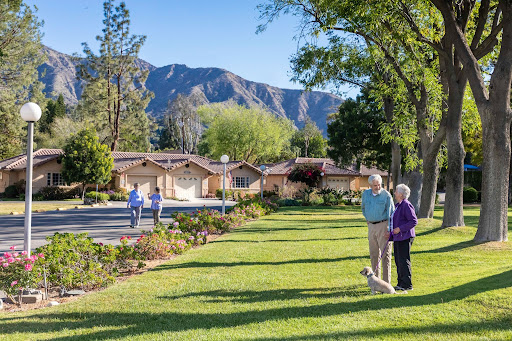 When it comes to senior living, the Southern California area is full of possibilities. However, not all senior living communities are created equal. Here in the foothills of the San Gabriel Mountains, amid citrus trees, wildflowers and a tranquil private park, lies a senior living community unlike any other.
Our unique neighborhood of single-story family homes gives the community a charming, small-town feel. The green and lush landscape make everyone who lives here an instant nature lover. Above all, there is a kindness and a courtesy that sets this Life Plan Community (also known as a continuing care retirement community or CCRC) apart. There's something special about living here among friends and among nature.
Here's nearly everything you need to know about Westminster Gardens.
Our Community
Set against the backdrop of the San Gabriel Mountains, Westminster Gardens offers beautiful scenery and plenty of choices when it comes to how you want to live during retirement. Our community is unlike other senior living communities in the area, with our single-family homes setting us apart. Here, it feels like a peaceful and charming neighborhood instead of a hotel or sprawling apartment complex.
You can find a variety of residential living options and fees designed to suit your preferences at Westminster Gardens. There are three floor plans for single-family homes in the community, each offering optimal privacy, modern appliances and attractive finishes. Even better, our one-story homes give easy access to amenities that make life convenient and a lot more beautiful.
Westminster Gardens is full of connection points where you can meet up with a neighbor to catch up, get active or enjoy a meal together. Stroll through our 32 acres filled with trees, fruit groves and natural beauty or meet up with a neighbor at our private park. Pick up a book at the lending library, bring your dog to romp at the dog park or take a moment alone at our outdoor meditation labyrinth. There's plenty to do here, but even more importantly, there are plenty of people to do things with. Our residents are some of the kindest and most welcoming around, always ready to give a friendly wave and smile.
Let us take care of your gardening and home maintenance services while you enjoy spending time outside, volunteering at your favorite local organization or grabbing coffee with a friend.
Health and Wellness
At Westminster Gardens, our amenities were created to make keeping up with your health and wellness goals even easier. You have a plethora of opportunities waiting right outside your door to keep you feeling healthy and active.
Swim laps in the outdoor pool or simply jump in with the grandkids to cool off. Bird-watch along our walking trails, play a game of tennis or pickleball with a neighbor on our private courts, or save a seat for a friend at the next class at the on-site fitness center.
Now that you've worked up an appetite, you can take advantage of enjoying a meal in the dining room where you can eat in a restaurant setting or al fresco on the attached patio. Of course, you are welcome to cook and entertain in your home, but if you ever feel like you would like to let someone else do the chopping and sauteing, allow our team of chefs to prepare seasonal and delicious food for you. Every detail here was designed to enhance your independence, health and freedom — not limit it. So the choice is yours when it comes to dining and meal plans.
Making Connections
Research over the past few decades has demonstrated that socially connected adults are healthier adults. At Westminster Gardens, you can always find a way to connect with a neighbor over a shared interest, new hobby or even at a program hosted at our community.
Residents at Westminster Gardens have many talents and passions, which makes them the ideal people to create and facilitate events, programs and opportunities throughout the community. Residents take the lead and manage nearly everything that happens in our bustling Packard Hall. You can look forward to professional music programs and live concerts, resident-driven clubs, lifelong learning programs, ballroom and line dancing classes, and much more. Don't see your favorite activity or passion on the calendar? Start it! Residents here are always looking for new opportunities to learn, get active and connect.
Peace of Mind
At the heart of the covenant between Westminster Gardens and our residents is the right to feel secure — physically, emotionally and financially — for life. This is where the power of community is at its most meaningful. The bonds between neighbors and team members provide the constant assurance that we are never alone.
The key to security is having access to levels of care should the need arise. As a Life Plan Community, Westminster Gardens offers a variety of senior living options, such as assisted living and memory support in on-campus homelike settings. Skilled nursing care for both short- and long-term needs is available right up the road at our sister community, Royal Oaks.
Next Steps
There is no one path to a healthy way of life here at Westminster Gardens, but there are many ways to get there. From the walking trails that wind through the private park to the serene meditation labyrinth, once you move here, you'll have opportunities to keep on moving every day.
We would love to show you what life at Westminster Gardens looks like with a personalized tour. If you aren't sure how to effectively tour a senior living community, download our free resource, "Guide to Touring a Senior Living Community." Then call us to schedule a time to get an inside view of our beautiful community. We can't wait to meet you.