Twenty-one military veterans currently live in The Terraces of Boise community. As a result, this community makes it a priority to recognize the immense sacrifices that these men and women made for our country.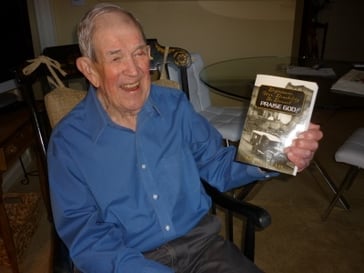 Thomas Lee is a U.S. veteran and a two-year resident of The Terraces. When Lee was just a sophomore in college, he fought in the front of the Battle of the Bulge during World War II. In 1944, American causalities were escalating, so Lee was sent to France after only six weeks of training, naïve about what waited for him once he arrived.
On his second day after arriving in France, a sergeant escorted Lee from an aid station to a unit just north of the battle taking place, instructing him to get into a fox hole that was about six feet-deep. Another soldier was already in there, so the two chatted and shared a cigarette. Lee was sitting next to the opening of the hole, but he adjusted his position because the soldier had asked him to fully lie down instead. Moments later, a piece of shrapnel from an 88-milimeter shell hit a tree overhead, exploding directly above their foxhole. Lee immediately felt a sharp, searing pain in his legs and saw that a piece of shrapnel went completely through his right leg and about three inches into his left. The other soldier immediately left to call for a medic, as Lee realized that only seconds earlier, his head was where his right leg was now positioned. If he hadn't changed positions inside the hole, per the soldier's request, he likely would have already been dead.
After the incident, Lee was released and headed back to the States. He spent the next three and a half years in and out of hospitals, trying to save his severely injured leg. Finally, after multiple painful surgeries, he lost his right leg in 1949 and has since lived as an amputee.
Lee has always considered himself to be a very determined and independent man and he managed to forge ahead, graduating from school, getting married and becoming a teacher. Despite what happened to him, he is positive and continues to be thankful for all his life experiences. He is proud of his military service and appreciates those who continue to serve, which is why he led the Veteran's Day ceremony at The Terraces of Boise last November. At this event and reception, Lee was able to tell his story in front of a crowd of approximately 100 residents and guests. A table with veterans' memorabilia, including photos, uniforms, a canvas hammock, various medals, letters and a purple heart were also on display for guests to examine.
Lee continues to share his experience and his positive outlook with others. In fact, in 2009, Lee wrote an autobiography titled, "Depression, War, Disability Be Damned: Praise God." In this book, he discusses how his generation survived both a war and the Great Depression, his life growing up on a farm back in Indiana and his experience in the war. Lee talks about how grateful he is to be a citizen of the United States and that he "praises his family and friends who nurtured his recovery from the wounds of war."
A Kindle or paperback version of Lee's story is available on www.Amazon.com.