Fostering a community of growth and engagement isn't a one-person job, and the Judson Park Masterpiece Living Champion Team makes sure everyone feels empowered to do so.
Comprised of residents and team members, the champion team advocates successful aging for everyone at the Des Moines, Washington, community.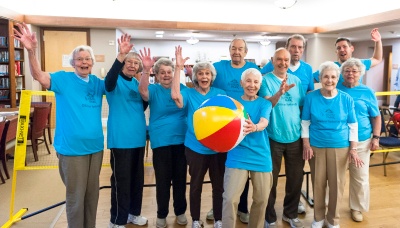 "One person can't do it alone," says Ken Ray, Judson Park's fitness coordinator and representative for Masterpiece Living, a successful aging initiative. "It's the community as a whole. It's everyone's job."
This type of thinking led Judson Park to become certified through Masterpiece Living as Centers for Successful Aging. The certification is comprised of six primary focus areas: culture, leadership, outreach, team member engagement, resident engagement and purposeful programming. Culture, in particular, carries a lot of weight, says Teresa Beshwate, Masterpiece Living's director of operations. And creating the best culture starts with something as simple as the words we choose.
"Do we use language that's empowering? For level of care, why should we define it by care? It's levels of living. Instead of staff, we use team members," Beshwate says. "Language is an indicator and driver of culture."
Inclusivity across levels of living is another measure of what makes a community a great place for successful aging, she says. Every resident, no matter where they lay their head at night, should be able to connect with others.
At Judson Park, inclusivity is so ingrained in the culture it happens with ease, says Sally Wold, resident and champion team member.
"Everybody looks around and there are people from The Village and The Grove and assisted living, and nobody thinks anything about it," she says. "It's kind of a natural thing to do."
Judson Park joins three other HumanGood communities as Centers for Successful Aging — Las Ventanas in Summerlin, Nevada, The Terraces of Phoenix and Bakersfield, California's Rosewood. There are a total of 13 communities certified throughout the country.