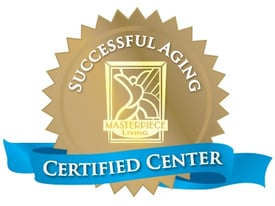 As most of us already know, HumanGood prides itself in delivering products and services that allow its residents to live engaged, purposeful lives. As such, we are proud to announce a special recognition that was given to two of its communities for carrying out such principles.
Plymouth Village in Redlands, California, and The Terraces at San Joaquin Gardens in Fresno, California, were recently recognized as two of the nation's seven Centers for Successful Aging (CSA) by Masterpiece Living, a multi-specialty group that partners with more than 80 organizations to maximize the potential of older adults.
This certification is meant to distinguish the best successful aging destinations in the country—those that are innovators and leaders in the senior living industry. The CSA recognition results from both communities' commitments to fostering a culture of growth and empowerment, which is extended not only to community residents, but also to team members. This recognition means that the greater senior living industry looks to these communities as valuable resources that can provide knowledge, outreach, support and information about how to empower older adults so they can maximize their unique potentials.
According to Masterpiece Living, to receive this certification, organizations must fulfill all of the criteria, which includes well-trained leadership, data-driven decision making, active coaching and multi-dimensional programming that supports all levels of living.
"We are excited to be recognized as a Certified Center for Successful Aging, and proudly accept the responsibilities that come with being a regional expert for illustrating best practices in the aging field," says, executive director of Terraces at San Joaquin Gardens. "This certification demonstrates our commitment to the older adults we serve."
Currently, there are only sixteen CSA organizations nationwide. Plymouth Village and The Terraces of San Joaquin Gardens now join five other HumanGood communities that have received the CSA award. Past HumanGood communities include Judson Park in Des Moines, Washington; Las Ventanas in Las Vegas, Nevada; Rosewood Retirement Community in Bakersfield, California; and The Terraces of Phoenix in Phoenix, Arizona.
For more information about Masterpiece Living and the Centers for Successful Aging certification, please visit www.mymasterpieceliving.com/masterpiece-living-designates-seven-new-certified-centers-for-successful-aging.