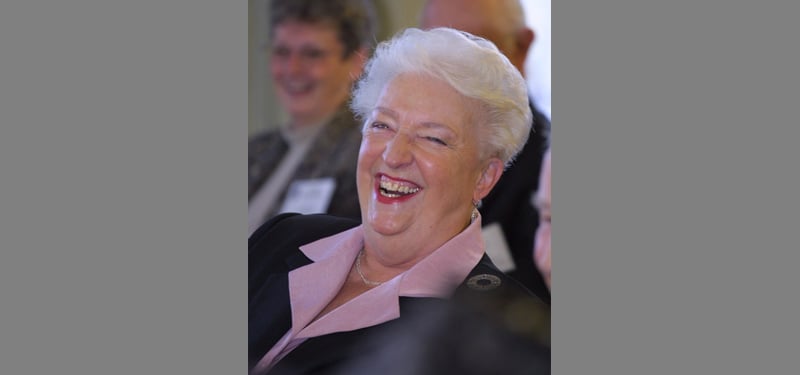 It is with great sadness that I share that our dear friend and HumanGood board director Gloria Marshall has passed away after a brief illness.
Those of you who had the joy and privilege to work with Gloria will know what a deep and hurtful loss this is for each of us and for our organization. She was a rare individual of uncommon grace and kindness with a deep heart for loving and serving others.
Gloria was a member of the HumanGood board since its inception. She joined the ABHOW board in 2003 and served as co-chair of ABHOW's board development committee; before that she served as the advisory board chair at Rosewood, our community in Bakersfield. While most of us know about her service to our organization and devotion to our mission, her entire life was one of service to others, all rooted in her deep faith and love for her savior.
For many years, Gloria and her husband, John, served as American Baptist missionaries to Congo. They also served as pastor and wife for two American Baptist churches in the Pacific Southwest and as area minister for Arizona.
Gloria served on the Mission Board at Parkside Church in Bakersfield and as chairperson for the "Children to Love" Board of Directors (a mission agency working with Romanian orphans and Untouchable children in India). Gloria and John also founded Stewards Inc., a nonprofit that works with vulnerable individuals with mental and addiction challenges in Kern County.
She was a well-known speaker, advocate and leader, and she will be deeply missed. Our HumanGood board chair, Randy Stamper, shared these words with me about Gloria: "Gloria was a solid board member who was always focused on our residents. She always brought sound business judgment to the job and she was engaged and stayed relevant with people of all ages. She truly lived her faith and worked for 'human good' all of her life, and she will be greatly missed."
While I am saddened by her passing, I am truly grateful for a life fully, joyfully, and faithfully lived. I also want to share this video illustrating the positive impact that Gloria had with her work.
Please join me in expressing our condolences to her husband John, her children and grandchildren, extended family, and the countless people whose lives have been touched in a memorable way by her remarkable life.
John Cochrane
President and CEO
HumanGood