From rightsizing to re-imagining the future, Margit Novack's unique new memoir opens our eyes to the abundant possibilities of later life.
Join us at Rydal Park for this special speaking engagement with Margit as she inspires us with her "re-visioned" picture of what's to come and encourages us to embrace what's next.
About the author: Margit Novack, thought leader in aging, senior move management trailblazer, and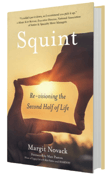 author of the just-released book Squint, will be at Rydal Park to offer her insights with her trademark humor and wit.