The formal affiliation of two of California's leading nonprofit providers of senior housing and services has been approved by state regulators. American Baptist Homes of the West (ABHOW) and be.group have officially combined operations to create California's largest nonprofit senior living provider and the sixth largest in the nation.
"Our unified organization will have greater strength, scale and resources to meet the changing needs of a growing senior living market," said John Cochrane, who will lead the new organization as its president and CEO. ABHOW's former CEO, Dave Ferguson, will transition into an advisory role.
"We strongly believe that this affiliation will benefit those we serve and seek to serve, and help us to remain competitive in an increasingly challenging environment," Cochrane said.
The newly unified company will provide continuing care, affordable housing, assisted living and memory support to nearly 10,000 residents in 84 communities across California, Arizona, Nevada, Washington, Oklahoma and Idaho.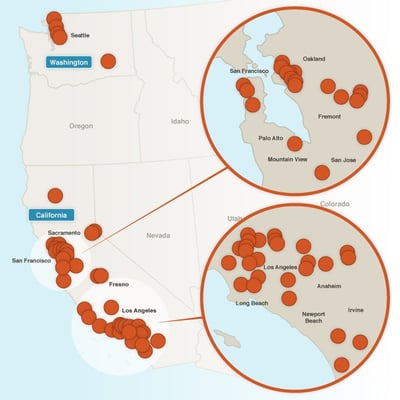 ABHOW and be.group announced affiliation plans last July, citing the growing housing and health care needs of the senior population and increasing competition as some of the factors that contributed to the decision to consolidate. By coming together, the affiliated organization will enhance the performance and care of its communities, create more opportunities for team members and provide greater resources to meet the escalating demand for housing.
ABHOW and be.group have become part of the Cornerstone Affiliates family of companies, which also includes Beacon Communities, Inc. and Seniority, Inc. Cornerstone Affiliates and another holding company, California Life Plan Communities, will provide oversight of strategic planning and an integrated focus on continuing care retirement communities, affordable housing and middle-market housing and services.
"As an industry, we must find ways to serve the majority of seniors who face limited options when it comes to housing and services," Cochrane said. "As a combined organization, we will be well-positioned to serve a greater mission: to transform senior living."
About ABHOW
Founded in 1949, ABHOW is widely known for its pioneering leadership in senior housing and health care. The company serves more than 5,800 residents in 50 retirement communities in California, Arizona, Nevada, Washington, Idaho and Oklahoma and employs 2,400 team members. To learn more about ABHOW visit www.abhow.com.
About be.group
be.group serves nearly 4,000 residents across 34 communities and employs 1,300 team members. be.group was established in 1955 and is committed to helping seniors enjoy rich, purposeful lives. To learn more about be.group visit www.thebegroup.org.