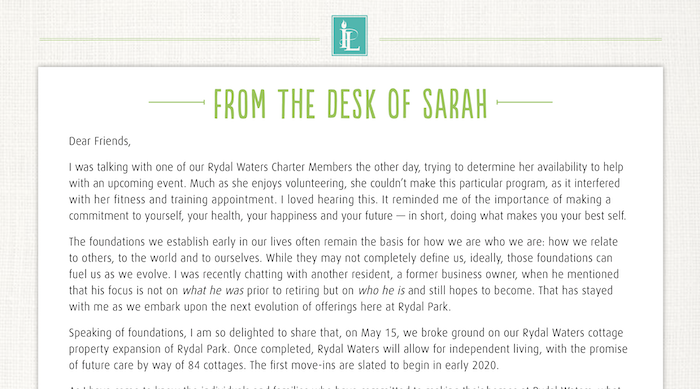 Dear Friends,
I was talking with one of our Rydal Waters Charter Members the other day, trying to determine her availability to help with an upcoming event. Much as she enjoys volunteering, she couldn't make this particular program, as it interfered with her fitness and training appointment. I loved hearing this. It reminded me of the importance of making a commitment to yourself, your health, your happiness and your future — in short, doing what makes you your best self.
The foundations we establish early in our lives often remain the basis for how we are who we are: how we relate to others, to the world and to ourselves. While they may not completely define us, ideally, those foundations can fuel us as we evolve. I was recently chatting with another resident, a former business owner, when he mentioned that his focus is not on what he was prior to retiring but on who he is and still hopes to become. That has stayed with me as we embark upon the next evolution of offerings here at Rydal Park.
Speaking of foundations, I am so delighted to share that, on May 15, we broke ground on our Rydal Waters cottage property expansion of Rydal Park. Once completed, Rydal Waters will allow for independent living, with the promise of future care by way of 84 cottages. The first move-ins are slated to begin in early 2020.
As I have come to know the individuals and families who have committed to making their homes at Rydal Waters, what began as a project to build houses — with physical foundations — has become something much more meaningful, because I now see that the true foundation of Rydal Waters is its community of people, just as it is here at Rydal Park. It is a community comprised of people of like mind and of differences; a community that is both cohesive and diverse; a community of social people, as well as those who prefer a more private lifestyle; and a community where people don't change who they are just because they are changing their address. For this group, being their best selves includes being the architects of their own future.
Thinking about what's next is not always easy. Thinking about where can be even harder. Take a deep breath, rely on your foundation and explore. And when you do, we hope you will consider us. It's a wonderful time to experience the warmth and welcome that define our exceptional culture. And it's the perfect time to come by and feel what we mean.
Sarah Jolles
Executive Director of Sales & Marketing