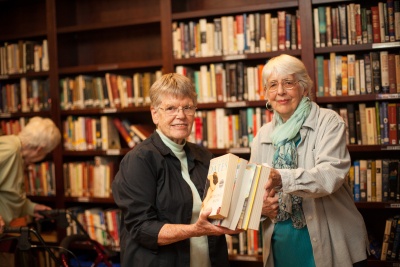 When it came time to move the 2,500-volume library from Grand Lake Gardens' sixth floor to the lobby, Caroline Summer rolled up her sleeves and got to work.
"One of the administrators here said my plan for the move looked like the Normandy Invasion," says Summer, a resident of the Oakland community and chair of the resident committee that planned the move.
Summer and four other committee members spent nine months working with architects to design the new library, implementing their vision for a warm space with a grand arch at the entrance.
"The appearance of the library now is about perfect," says resident and committee member Stella Hexter. "By the time we designed an arch for the entrance, it looks like a very fine house in England. It's very inviting."
Jenevieve Francisco, the community's resident services director, says she's impressed with the work of the library committee.
"I think it's very exciting we have a new library," Francisco says. "We have such an active library and library committee. They are a very seasoned group of library volunteers and I was just impressed with the care and the effort that they took to keep up the library."
Moving the library took some time, says Summer, a former English professor.
"We had to wait for the workers to finish the shelves, then we had people on the sixth floor packing up the books and people on the ground floor unloading them," says Summer.
Residents are also enjoying the benefits of an expanded book collection.
"The library was created entirely by the people who live here," Summer says. "Some people don't even use the public library, they just use ours. We've gradually added every year to the collection since the center's creation in the 1960s."
Though Summer was once hesitant to move the library from its sixth-floor view, she's happy with the finished project and its new, prominent location.
"It's pretty," she says. "Plus you come into the front entrance and you can see this beautiful new library. It gives the impression that people who live here love books, which is true."
Hexter says Summer is a natural leader.
"Caroline is wonderful at organization," she says. "Her strength is in seeing what people need. She made sure we got a lot of new quality books and makes sure they are returned."
For now, Summer is looking forward to enjoying the committee's accomplishments.
"I think the best story of the day is that we did it, five women, some with osteoporosis and back problems, did it all," Summer says. "We are very proud of our library."