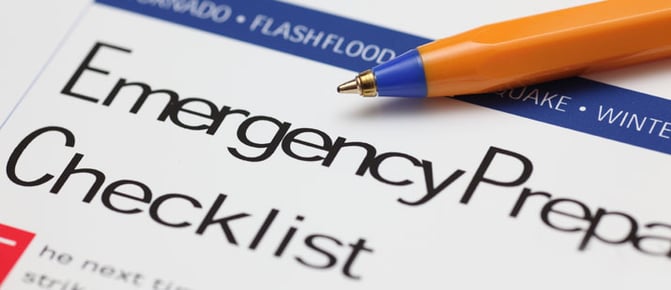 Senior living communities keep residents safe during natural disasters.
Oklahoma has tornadoes. The Philippines has typhoons. California must manage its own threats of natural disaster—from wildfires to earthquakes. An emergency preparedness plan is essential for anyone managing a household, business or community.
Senior living communities look to 24-hour staff to take charge and keep residents safe in an emergency, taking the burden off residents and offering security. According to a 2011 report from the Administration on Aging, some 8.1 million older adults live alone. Those living in single-family homes without a community for support risk managing the burden of security on their own.
Marc Herrera, vice president of skilled nursing and risk management at HumanGood, discusses disaster preparedness plans and capabilities.
HumanGood: How does HumanGood ensure the safety and well-being of its residents?
Herrera: In terms of facilities, we have our 24-hour staff as well as emergency generators that can go for several days. We also have supplies of food that can last all residents and staff for at least three days. We have an automatic gas shutoff, so in case of a significant shake, there will be no chance of a gas rupture.
The local fire and police departments rank senior living communities as a top priority. In any region-wide disaster, they'll contact us to make sure we are OK. In a recent earthquake, the fire department did a site visit and visual inspection. The fire department has even practiced rescues at our communities. In addition, we have arrangements with local hospitals so that, if for whatever reason we are unable to directly provide nursing, they will care for ours residents who require skilled nursing.
HumanGood: What plans are in place should a disaster strike?
Herrera: Our communities have comprehensive plans in case of emergency. We conduct drills, not just so staff members are prepared but to help the residents become prepared as well.
We maintain lists of residents who are blind, deaf or non-ambulatory so we know in an emergency which individuals will need help first. Our manuals are extremely comprehensive because they look at all kinds of potential disasters, and our drills follow suit.
HumanGood: Where will residents go in the event of a disaster?
Herrera: We understand that communication and transportation are critical. We have a fleet of vehicles that we can mobilize to assist any individuals who need to be transported out of the community.
Should we need to coordinate any kind of regional response, it would include evacuation to a safe area. We have signed inter-facility transfer agreements with local hospitals and other senior living communities both within and outside the realm of HumanGood.
If we need to provide alternative housing until damage can be addressed, we will honor our contract with our residents. We want to provide that extra level of assurance through reciprocal agreements with other LeadingAge California communities.
LeadingAge California is a public interest association advocating for quality nonprofit senior living. Of course if something bad happens, residents may still want to be with their family at that time. But if they want alternative housing, we will continue to serve residents.
Our communities are generally safer than a single-family home because they have sprinklers and are constructed with concrete and reinforced steel. Further, residents are not alone. They are part of a community full of resources. Because HumanGood is so rich in services, California emergency services have us on their list of places they can send local residents in the event of a citywide evacuation and relocation.
HumanGood: Where can residents or prospective residents seek answers to any other questions or concerns?
Herrera: The executive director at the community in question will always be the person most knowledgeable on the emergency preparedness and disaster preparedness plans.