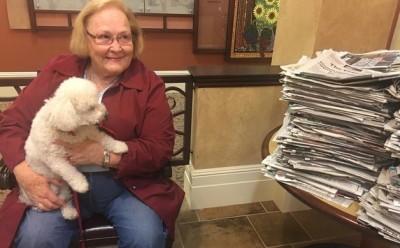 For residents at The Terraces of San Joaquin Gardens, giving back is newsworthy.
Beverly Johnson, a resident at The Terraces, greets each day by taking a leisurely stroll through the Fresno, California, community. When stopping at each residence to chat with fellow early birds, Johnson makes sure never to leave empty handed. She has a goal for every stop she makes: take the morning paper from each resident, once the columns are read and the crossword puzzles are completed.
Last spring, The Terraces at San Joaquin Gardens began to participate in a unique recycling program. Partnering with the Central California Society for the Prevention of Cruelty to Animals (CCSPCA), the senior living community began collecting old newspapers from around the community and donating them to help line puppy kennels at the local shelter. The initiative was developed from an inquiry by The Terraces to the CCSPCA for partnership opportunities.
"In June 2016, we contacted our local CCSPCA about having one of their volunteers and dogs visit our community's skilled nursing residents," says Melissa Sanders, lifestyle enrichment manager at The Terraces at San Joaquin Gardens. "The next month, I decided to reach back out to inquire about opportunities for us to give back. The CCSPCA's volunteer coordinator provided me with a list of ways to help, including newspaper donations."
The program, which Sanders eventually named, "Papers for Puppies," was well-received by residents. Even after the first few days of collecting newspapers, Sanders had to move the collection area to a new office, as hers became overrun with papers. Sanders received numerous hand-written notes from community members, especially those who were unable to leave the Terraces to participate in off-site volunteer efforts, praising the creativity and resourcefulness of the initiative.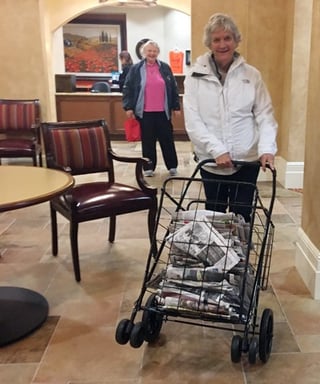 "Newspaper collection is something that individuals in all levels of living can participate in," says Sanders. "It's a way for everyone to volunteer regardless of any challenges they may be facing."
Through "Papers for Puppies," residents and team members have contributed more than 1,000 papers each month to the CCSPCA. With the initiative being so successful, Sanders has been working diligently to expand the partnership with the CCSPCA into something greater. In 2017, Sanders hopes to solidify a new partnership that allows residents of the community to join CCSPCA staff members in rehabilitating shelter animals and refreshing The Terraces' own pet therapy program.
In addition to the newspaper collections, The Terraces of San Joaquin Gardens also is planning to challenge other communities in a quarterly donation drive. The drive will not only include newspapers, but other necessary items to ensure the shelter animals have a comfortable stay. Sanders will urge residents across multiple HumanGood communities to donate items such as blankets, towels and toys. The effort will kick off later this month.
For more information on how to get involved with the "Papers for Puppies" program, please contact Melissa Sanders at Melissa.Sanders@HumanGood.org or 559-430-8237.